24 Hour
Emergency Service
We Cover
All Five
Boroughs

Optima 2
---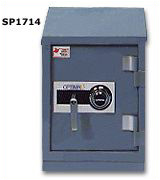 The New Optima 2 line, designed primarily for use in the office, features 4 standard sizes and one ledger size. All models feature the same sturdy construction, but their capacity varies to meet a wide range of security needs.
Rating: UL Listed Class C 1 Hour Fire Resistant
5 hour simulated explosive rating
30' drop test
Heavy duty hinges
Heavy duty caster base
Independent tamper resistant relocking device
Boltwork and handle lock automatically upon closing
UL approved combination lock
Optional UL Listed Group 1 Electronic Power Generated Combination Lock No Batteries or Wiring Required
New! Optional Custom Interior
Dimensions and Weights Measuring System: Metric | U.S.


Model
Inside Dimensions
inches
Outside Dimensions
inches
Capacity

Total
Weight
lbs
Adj. Shel-
ves
Price
USD
H
W
D
H
W
D 1
Cu. ft.
Cu. In.
SP1714
171/2
151/2
121/2
24
181/2
181/2
2
3390.7
190
1
Contact Us
SP2214
223/8
181/2
153/8
29
211/2
211/2
3.7
6360.8
270
1
Contact Us
SP3219
321/4
231/2
203/8
39
261/2
261/2
9
15438
470
2
Contact Us
SP4219
421/4
231/2
203/8
50
261/2
261/2
11.8
20224.9
585
3
Contact Us
SP50192
50
20
19
60
261/2
261/2
11
19000
920
3
Contact Us
SP50292
50
29
19
563/4
35
261/2
16
27550
0
3
Contact Us
1 Add 1 3/4 inches to outside depth for handle & hinges
2 2 Hour Fire Resistant


Door Swing Dimensions

Model
A
B
C
inches
SP1714
151/2
331/2
311/2
SP2214
181/2
391/2
371/2
SP3219
231/2
491/2
471/2
SP4219
231/2
491/2
471/2
SP5019
20
n/a
n/a
SP5029
29
58
641/2

Door Swing Projections