24 Hour
Emergency Service
We Cover
All Five
Boroughs

'Grand Prix' Ledger Cabinet
---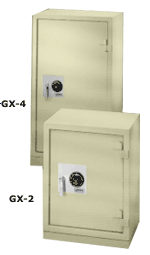 The "GRAND PRIX" Line was primarily designed for the office. It includes 4 models: GX-1, GX-2, GX-3 and GX-4. Identically built, they differ only in dimension and capacity. All are equipped with heavy-duty caster base and Sargent & Greenleaf or equivalent combination lock (key change).


Rating: UL Listed Class C 1 Hour Fire Resistant
Heavy duty hinges
Heavy duty caster base
Insulated walls
UL approved combination lock
Optional UL Listed Group 1 Electronic Power Generated Combination Lock No Batteries or Wiring Required






Dimensions and Weights Measuring System: Metric | U.S.


Model
Inside Dimensions
inches
Outside Dimensions
inches
Capacity

Total
Weight
lbs
Adjustable Shelves
Price
USD
H
W
D
H
W
D 1
Cu. ft.
Cu. In.
GX1
171/2
151/2
131/2
24
181/2
181/2
2.2
3661.9
175
1
Contact Us
GX2
223/8
181/2
163/8
29
211/2
211/2
4
6774.7
250
1
Contact Us
GX3
321/4
231/2
213/8
39
261/2
261/2
9.4
16195.8
455
2
Contact Us
GX4
421/4
231/2
213/8
50
261/2
261/2
12.3
21217.8
575
3
Contact Us
1 Add 1 1/2 inches to outside depth for handle & hinges
2 2 Hour Fire Resistant