24 Hour
Emergency Service
We Cover
All Five
Boroughs

Rotary Hoppers
---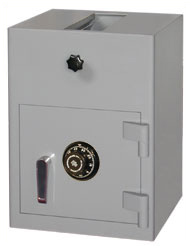 The rotary hopper depository safes are made for the deposit of small envelopes and small bags. These safes are ideal for use in service stations, trucks, convenience stores or any business where cash needs to be protected.
Rating: Burglary Resistant B Rated
1/2" steel plate construction doors
1/4" heavy duty steel body
Full boltwork and relocker
UL rated combination locks
Rotary Hopper protected by sawtooth baffle
Predrilled bolt holes - standard
Available in either key lock or combination
Optional UL Listed Group 1 Electronic Power Generated Combination Lock No Batteries or Wiring Required
Dimensions and Weights Measuring System: Metric | U.S.


Model
Inside Dimensions
inches
Outside Dimensions
inches
Total
Weight
lbs
Price
USD
H
W
D
H
W
D 1
HT2716
n/a
n/a
n/a
27
16
19
208
Contact Us
HT2014
13
131/2
101/2
20
141/4
141/4
140
Contact Us
HT2514
17
131/2
101/2
25
141/4
141/4
155
Contact Us
1 Add 1 1/4 inches to outside depth for handle & hinges